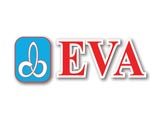 EVA Steel Co., Ltd.
Building Materials
Address

22/23, De Pe Yinn Wun Htauk U Myel St., Industrial Zone (3),(အမွတ္ ၂၂/၂၃၊ ဒီပဲယင္းဝန္ေထာက္ဦးၿမဲလမ္း၊ စက္မႈဇုန္(၃)၊)

Township

Hlaing Thar Yar(လိႈင္သာယာၿမိဳ႕နယ္)

Phone

Email

Website
Company Profile
Since 1997, Quality. Service. Performance, these three traits have been the cornerstone
of EVA COMPANY LIMITED'S business philosophy and success.EVA COMPANY LIMITED
provides to our customers with best quality metal products, superior and competitive
pricing available in the Myanmar's market.
Brands / Services
Alu-zinc Colour Roofing Sheet
"C" & "Z" Channel
Floor Decking Sheet
Partition Frame, Accessories (Screw, Bolt & Nut, etc...)