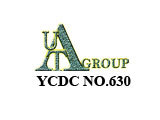 UAT Group Construction Co., Ltd.
Contractor
Address

116/118, Rm A, 4th Flr, Bogalay Zay St., Upper Block,(အမွတ္ ၁၁၆/၁၁၈၊ အခန္း ေအ၊ ၄ထပ္ ၊ ဘိုကေလးေဈးလမ္း၊ အထက္ဘေလာက္၊)

Township

Botahtaung(ဗိုလ္တေထာင္ၿမိဳ႕နယ္)

Phone

Email

Website
Opening Hours
Mon 9:00 AM - 6:00 PM
Tue 9:00 AM - 6:00 PM
Wed 9:00 AM - 6:00 PM
Thu 9:00 AM - 6:00 PM
Fri 9:00 AM - 6:00 PM
Sat 9:00 AM - 6:00 PM
Company Profile
UAT Group construction was established in 2005(Y.C.D.C No.630). We were start from has been upon serving small building construction to big construction project. We are experienced in providing quality services in our project. Since 2005 to till now, we were finished some 8-stories and 6-stories building and also many semi-finished building construction in our project.
Business Categories
Construction Services [Professional Services]
Real Estate Agents [Other services]
Brands / Services
အရစ္က်စနစ္ျဖင့္ဝန္ေဆာင္မႈေပးပါသည္။
ေျမ႐ွင္ႏွင့္ကန္ထ႐ိုက္တာပူးေပါင္းေဆာင္ရြက္ေပးျခင္း